LLC "Western Ukrainian Center "Medservis"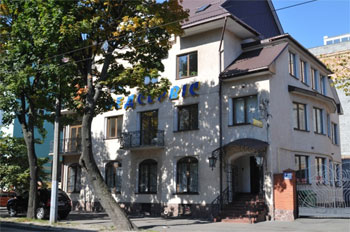 Was founded in 1995. LLC "Western Ukrainian Center "Medservice" is one of the leading companies of Ukraine in the maintenance of medical equipment.
The company passed the international certification ISO 9001: 2008 on maintenance, repair, installation, commissioning, testing and measuring the output parameters of medical equipment and measuring instruments for medical purposes.
Main activities: development, research, production, servicing, installation, sales of modern medical technology.
Under its own brand "ОБЕРІГ" company offers a wide range of medical products:
electric air sterilizer;
patient monitors including centralized monitoring system;
anaesthesia units
electorocardiograph;
breathing units;
bactericidal recirculator;
x-ray protection;
operating table;
operating lamps;
medical pendant.
This equipment is certified in the European Union, has successfully passed certification, metrological certification and registration in Ukraine.
Equipment "ОБЕРІГ" is the product introduction of new technologies of the world leading companies in the field of medical equipment, has no equal in the market of medical equipment, value and affordable prices as world level.
Highly qualified specialists Ltd "Western Ukrainian Center "Medservis" carried out quickly and efficiently installation of centralized medical gas, ventilation systems, hydraulic test of autoclaves, installation of cryogenic gasifiers different volumes of sterile assembly facilities (clean rooms).
Ltd "Western Ukrainian Center "Medservis" offers its customers world level medical products quality and service all over Ukraine.
Ltd "Traiding house "Medservis"
The lowest price in the region!!!
Ltd "Traiding house "Medservis" is the exclusive representative CHIRANA T. Injecta(syringes, cannulas, blood transfusion systems and transfusion solutions) and distributor known manufacturers medical supplies in Ukraine.
Over the years of the company successfully involved in the cooperation of more than 2,000 pharmacies and 400 medical institutions in seven regions of Ukraine.
Ltd "Traiding house "Medservis" to cooperation offer manufacturers medical supplies.
We always appreciate and take into account the wishes of our partners, creating the most comfortable environment to achieve the most effective results in the work.
We sincerely hope that the implementation of joint programs target supply will help our clients to get a full range of products in the required amount, which in turn will increase the efficiency and profitability of your business.
Cooperating with us, you can in the short term to stabilize employment and increase your profits!
Ltd "Traiding house "Medservis" ready to provide any details about the cooperation!
Ltd "Traiding house "Medservis" expresses its deep gratitude to all its partners for long-term and successful cooperation!
We are always open to new contacts and constructive cooperation